Welcome to the Kalgoorlie-Boulder Airport's brand-new parking system!
We're thrilled to announce that we now have cutting-edge NG Meter machines installed and ready for your convenience. Our upgraded system offers a seamless cashless and e-ticket experience for all visitors to the airport.
Here's what you need to know
Paid Parking Begins
Monday, 23rd October 2023 paid parking will be in effect
Grace Period
Don't worry if you're not accustomed to the new system just yet! We're providing a one-week grace period, allowing everyone to adjust to the changes. During this period, no infringements will be issued. The grace period lasts until Sunday, 29 October 2023.
Infringements Start
From Monday, 30 October 2023, infringements for non-compliance will commence, so make sure you're familiar with the new system to avoid penalties. The infringement penalty is $50 per day.
---
Parking Details
Free Parking for 24 Hours
Parking for the first 24 hours is absolutely free for all vehicles, making it convenient for short trips and pickups.
Pay Per Plate Parking
After the initial 24-hour free period, the fee for parking is $15 per day.
Extended Stays
For those planning extended trips, you can now book your parking for up to 25 consecutive days in a single booking, giving you peace of mind during your travels.
Pick-up/Drop-off Zone
The maximum stay is 2mins and drivers must remain with their vehicle.
Infringement Fees
Infringements for non-compliance with parking regulations are set at $50 per day.
Daily Inspections
Our Ranger Services team will be conducting daily inspections to ensure compliance with parking requirements.
Overflow Parking
It's important to note that the overflow parking area also falls under the new paid ticketing system, so be sure to use the new parking machines for a hassle-free experience.
Accessible Parking
We understand the importance of accessibility. If you have an ACROD permit, you can enjoy free parking in the designated accessible parking areas.
---
How to use the machines
Making a payment for your parking
Machine Locations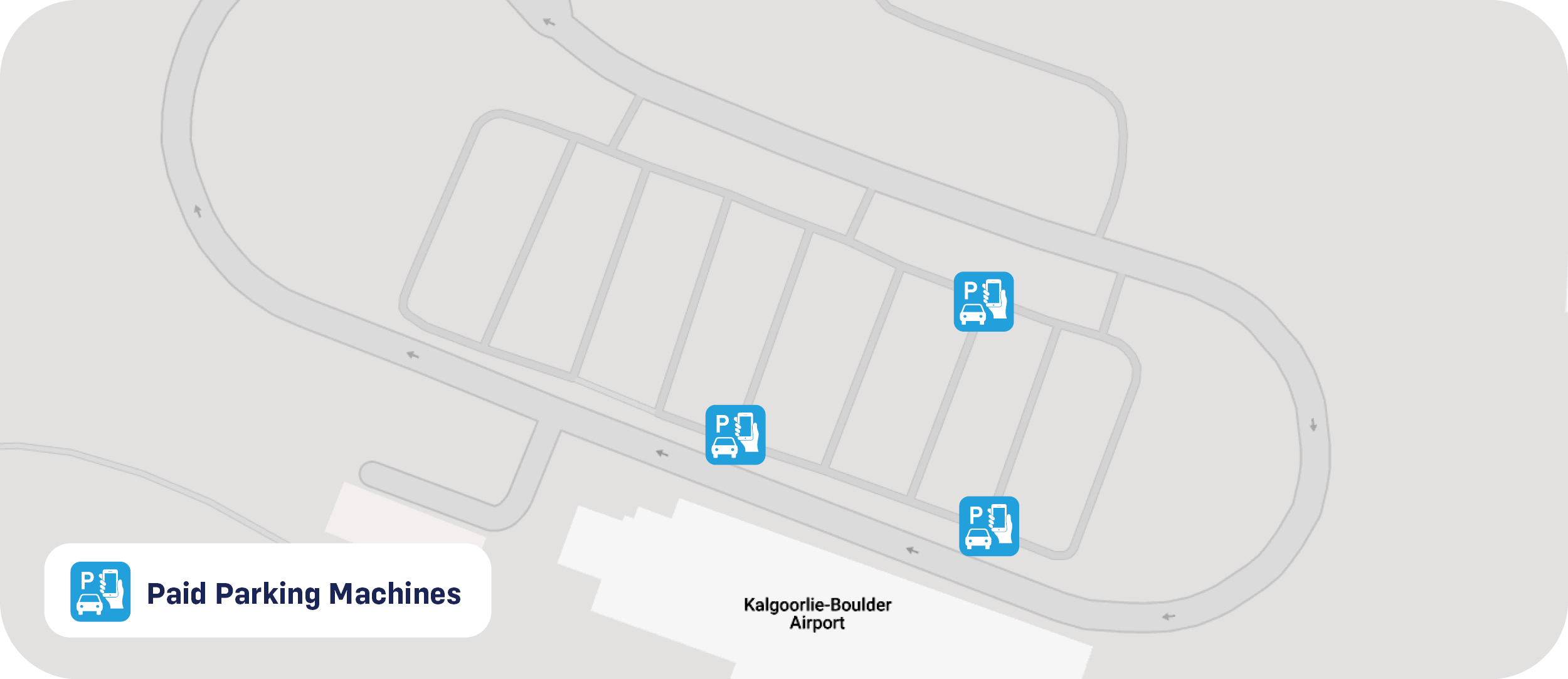 We're here to help.
Whether you're visiting the Airport for a short visit or a more extended stay, our new cashless ticketing machines will take the hassle out of parking.
Our customer service team will be on-site next week to assist commuters and ensure it's a seamless parking experience for all.

If you have any questions or require assistance our team is here to help. We also welcome your feedback to assist us with the continuous improvement of our services at the Airport.
Phone: (08) 9021 9600

Email: mailbag@ckb.wa.gov.au